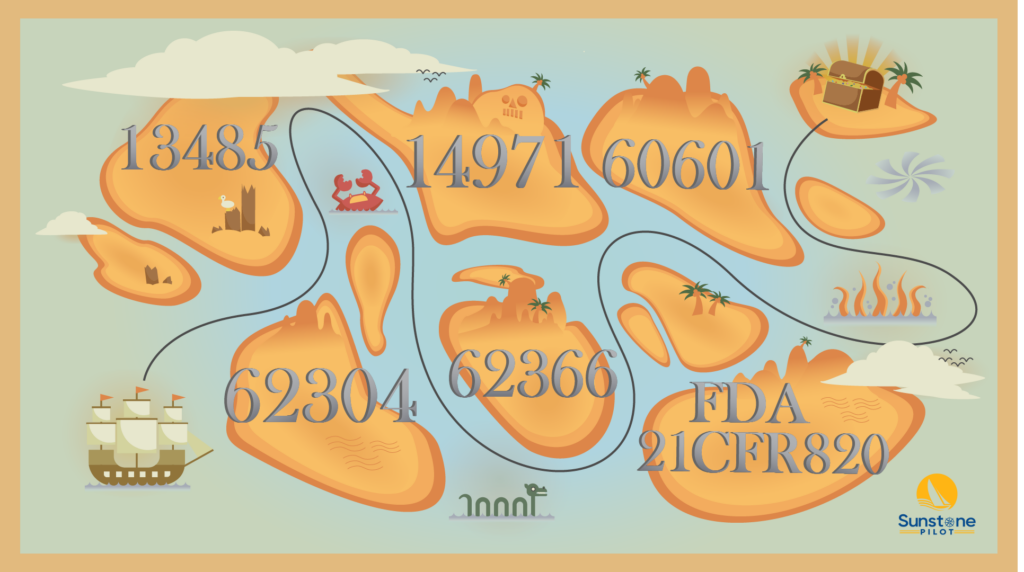 Navigating the strange world of medical device development
This guide is intended for people who are new to the medical device industry and are bewildered by all the strange terminology and why people keep talking in numbers ("14971" and "60601" and "13485" and many others). This guide is also intended for people who may have been working in medical devices for a few years but still find the way we do things to be arbitrary and confusing. And are wondering, "What's with all the documentation?"
Developing a new commercial medical device is very challenging even for medical device professionals with many years of experience. Beyond the complexity and safety challenges of medical technology, there's the complexity of all the regulations and standards that affect development.
A quick search will show that there's a great deal of information about medical devices available online and many courses and webinars. However, most of those resources assume you're already familiar with the basics of medical device development. This guide starts with the basics to help you to make sense of all the other more in-depth information out there. We start at the very beginning and teach you how to chart your own course, reach your destination, and avoid sea monsters.
Why is Medical Device Development Different?
Developing a medical device is different from developing many other types of products primarily because a medical device can potentially injure or kill patients. So safety and the associated safety regulations affect every aspect of medical device development. Clinical testing is another key differentiator–conducting a clinical study can be the single most expensive and time consuming part of developing a new medical device.
If you've never worked in a medical device company before, you may be surprised at the scope and intrusiveness of the regulations in this heavily regulated industry. The regulations and standards not only define requirements for the design of a new medical device, they also define requirements for many key business processes throughout the organization. For example, there are FDA regulations regarding purchasing, employee training, website content, and customer service.
One way to better understand the unique challenges of medical device development is to look at it from the viewpoint of knowledge. Development of a 'regular' product requires deep knowledge in three domains: product technology, product application (usage), and manufacturing technology. Development of a medical device requires these three knowledge domains plus deep knowledge of the regulatory approval process and regulatory compliance (= 65% more knowledge!). See the Five Types of Knowledge for Medical Device Development for more about this knowledge viewpoint for development.
Where to start in development?
First, make sure your product team is focused on the right product. This sounds obvious but many companies stumble late in development because they skipped some crucial investigations at the very beginning. There are many techniques to validate a proposed new health technology. Here are a couple to consider:
The What and Why of Phase Zero – an article by the Product Creation Studio which gives an overview of this crucial period before diving into full commercial development
Stanford BioDesign – a collection of videos and articles describing how to find the right strategic focus for your venture based on this proven framework for medical device innovation
Design Thinking – short article and video on this important process for innovation by IDEO (for all types of products)
How to get regulatory approval?
When developing a new medical device, you need to demonstrate to the FDA and other regulators that the new product is safe and effective for its intended use. This simple statement drives a great deal of research, testing, and documentation.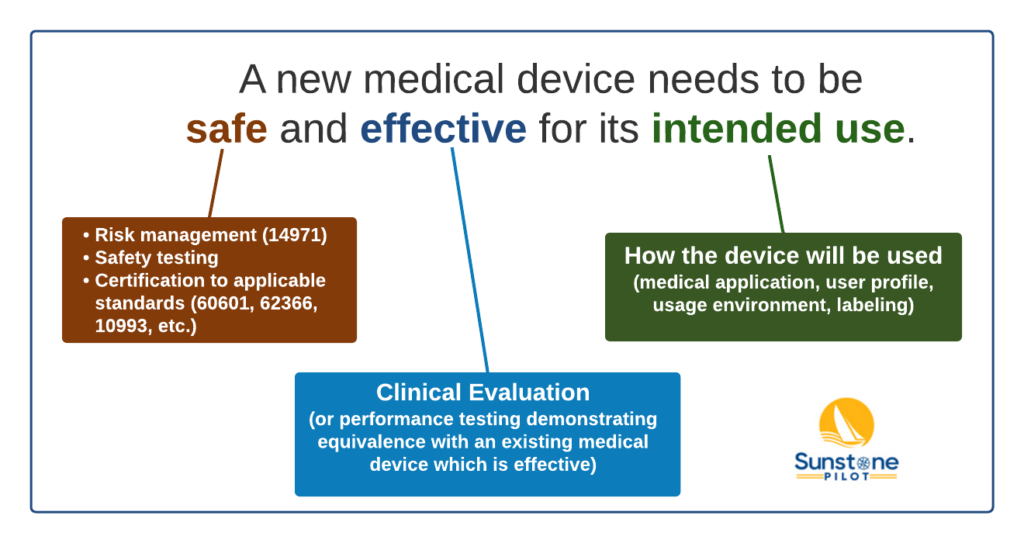 First let's look at safety. Safety is crucial to everything we do in medical device development. We follow systematic risk management per the ISO 14971 standard. We do extensive safety testing of the new product and we do certification to applicable safety standards like 60601 and 62366 standards.
Second, there's determining the effectiveness of a new medical device. Efficacy usually involves clinical evaluation of the new product and this can be one of the most expensive parts of product development. But it's crucial to prove the value of the new medical device and it's crucial for risk benefit analysis where we show that the clinical benefit to the patient outweighs the risks associated with the new device.
Both safety and efficacy are always evaluated in the context of intended use–how the device will be used, who will use it, and in what usage environment. For example, it's very different for a device that's going to be used in a hospital operating room versus an outpatient clinic versus a patient's home.
And the quality of documentation and data associated with these three areas will be a key part of regulatory approval of the new device.
Determining the regulatory strategy is a crucial part of early development of a medical device because it affects so much of what is done later in development. Each country where you want to sell your new medical device has different regulations and even within a single country the regulations depend on the classification of your medical device. Sometimes the regulations are very different. The table below compares the regulations for the US with the European Union. Note that there is no equivalent to the US FDA for Europe.
| | European Union | United States |
| --- | --- | --- |
| Policy | Medical Device Regulation (MDR) | Preamble to the QSR |
| Rules | ISO Standards (13485, 14971, 62366, etc.) | Quality System Regulation (QSR) 21CRF820 + state regulations |
| Enforcement | Notified Body (BSI, TUV, etc.) | FDA Office of Compliance + state bodies |
Resources for understanding regulatory pathways
How to determine if your product is a medical device – FDA starting page for understanding device classifications for the US market (note that different criteria apply for the EU and other markets)
FDA Overview of Device Regulation – starting page for a wide range of important regulatory information on the FDA website
Roadmap for Medical Device Development
This roadmap diagram summarizes the key parts of medical device development at a high level. The details will be different for every product team but this diagram emphasizes the importance of activities during pre-production after development is completed but before the product can be sold. These pre-production activities can take months or years, making medical device development costlier and riskier than development of comparable non-regulated products. Knowing what to plan for in pre-production will greatly increase your product team's chances of success. And note that design controls, the regulations governing medical device development, apply as soon as a project leaves the research lab and starts down the path of commercialization.

Your Path Depends on Your Product
The term "medical device" covers a very wide range of products and the path you follow in getting to market will vary widely depending on the type of medical device. Here are four examples of medical devices which present different challenges during development and which need to comply with different standards.
Sterile disposable: example intravascular catheter for cardiology procedures
Hardware only interventional device: example, laparoscopic instrument for minimally invasive surgery
IOT diagnostic device: example, smart watch + mobile app + cloud software
Capital equipment: example, CT scanner
Additional Links
Latest Posts on Medical Device Development